Welcome to the Action 52 Wiki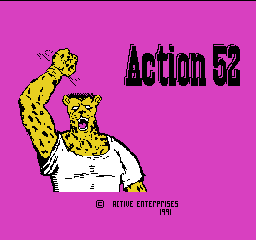 Make your selection... now!


This wiki is dedicated to detail the unlicensed multicarts that was released by Active Enterprises for the NES and the Sega Genesis, plus includes the Cheetahmen series. Yes, we know that most of the games really suck, but most of them were interesting concepts that never grown into fruition. You are free to help us editing pages, or adding information. Just don't write vandalism or spam, okay? Right then and that.
Ad blocker interference detected!
Wikia is a free-to-use site that makes money from advertising. We have a modified experience for viewers using ad blockers

Wikia is not accessible if you've made further modifications. Remove the custom ad blocker rule(s) and the page will load as expected.